St. John's and St. Paul's are congregations of the Evangelical Lutheran Church in America.
Address
St. John's Lutheran Church:
32101 370th St.
Bellevue, Iowa 52031
St. Paul's Lutheran Church
909 Park Avenue
LaMotte, Iowa
Sunday Worship Times
St. John's: 8:30 AM
St. Paul's: 10:00 AM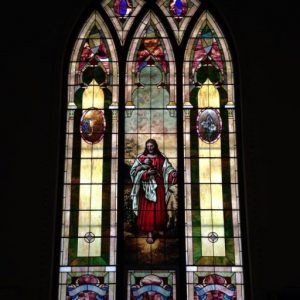 History
The story of St. John's Lutheran in St. Donatus, Iowa, is closely connected to the history of Wartburg Seminary, the Iowa Synod, and the mission work of Sigmund Fritschel. Before there were ever Lutheran clergy in the area, there were Lutherans who were committed to the proclamation of the Gospel. In 1854 Dr. Fritschel is said to have heard about some German Lutherans living in what was then called Tete des Mortes, now better known as St. Donatus. Albert Llewellyn Hock's The Pilgrim Colony: The History of Saint Sebald Congregation, the Two Wartburgs, and the Synods of Iowa and Missouri, carries an anecdote translated from George Fritschel's Aus den Tagen der Väter:
One Saturday in October, Sigmund Fritschel with his robe and Löhe's Agenda set out on foot for Tete des Mortes (Death's Head), now known as St. Donatus. Word of mouth had it that Lutherans there were reluctantly listening to a Reformed pastor and wished for a Lutheran. But the seminary had also received a letter from a certain Mr.Felderman telling them to stay away. Fritschel took with him student Christian Bauer as his companion and cantor. They found Felderman's house. A stately old man answered the door and bade them enter. When they told him who they were, he asked, "Didn't you get my letter?"
"Yes, that is exactly why we came. We have heard that there are Lutherans in this area who wish for Lutheran worship services. So, we do not understand why we are not wanted. We want to find out why we should not come."
The old man explained that he and his Lutheran neighbors had been afflicted with three pastors in succession who failed to preach and teach the gospel as the Lutherans had come to know it. One was Methodist, one tried to "convert" them, and the last claimed to be Lutheran but was such in name only. Felderman proceeded to examine Fritschel's knowledge of the Lutheran catechism, his belief concerning the sacraments of Baptism and Holy Communion and salvation by God's grace. He rejoiced over what he heard and welcomed his guests to conduct services at his home the next day. He had served in Napoleon's campaign into Russia. Late into the night he told of his war time experiences. Early the next day Felderman rode from farm to farm inviting people to gather at his home for a 10:00 worship service.
The farmer in whose house that first worship service was held was presumably John Diedrich Felderman, who came to the area in 1845. The account goes on to describe that first worship service, how the home was set up for it, and how the people sang so enthusiastically that the seminarian who was supposed to be cantor stopped trying to lead them! Since that time, St. John's has been home to a community of faithful Christians eager to share the Good News of Jesus Christ through the study of scripture and through vibrant worship.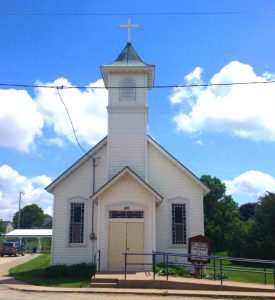 St. Paul's in La Motte has origins in the mission work of pastors starting in 1910. Services began in the (then) Methodist church in 1912, and in 1914, the Lutherans purchased the church building from the Methodists. This building has been the congregation's home to this day.